Sunday, August 18, 2019
Event & Stage Entertainment Schedule
Food and Beer - Noon - 10:00pm

Jaycees Carnival - 1pm - 10:00pm

Jaycees Bingo - Noon - 10:00pm

Craft Show - Noon - 6:00pm
NO COOLERS - NO OUTSIDE FOOD OR DRINK
No Pets Allowed except for Assistance Dogs to People with Disabilities.
Additional Parking at Brooks Middle School, 350 W. Blair Lane
Free Shuttle Bus - Look for the Bolingbrook Park District Bus
Sunday 5pm - 10:30pm
---


On The Peforming Arts Stage :



Claremont Drive - 12:00pm - 1:30pm

The band was started about 20 years ago by Ron McKee, Al Konrath and John Carbonaro.
We started playing in Ron's basement in Cicero, Il. As the years went on we got together less and less. In September of 2009 we received a call from a guy asking if we were in need of a drummer. Well, not really because we only had this fantasy band we called The Dead and The Dying. However, we invited him over and things began to click. The search was now on for a bass player. Music of the 50's, 60's, 70's & 80's!
Learn more about Claremont Drive:
---
NICK MILLER as ELVIS and BAND - 2:00pm - 3:30pm


Nick Miller: "Keeping The King Alive" Tribute to Elvis Presley.

Nick Miller was born and raised in Joliet, Illinois.

While vacationing at a young age with his family, they stopped in Memphis, Tennessee visiting Graceland and Nick became an instant Elvis fan. He began watching Elvis movies and listening to his music. From that moment on, Nick began singing in the basement and one day, he simply decided to become an Elvis Tribute Artist.
Learn more about Nick Miller:
---
The CoverGirls Violin Show - 4:00pm - 5:30pm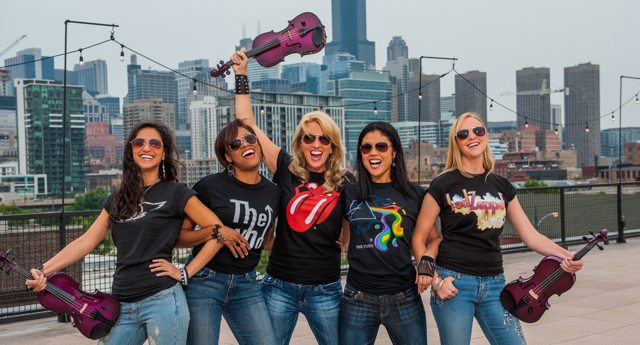 The CoverGirls Violin Show is a colorful, high-energy musical revue of the greatest pop and rock hits from Led Zeppelin to Lady Gaga, all performed on the CoverGirls' signature purple electric violins.​
It's our love of fun, music and fashion that draws us together to share our unique brand of entertainment. The CoverGirls are some of the Chicago area's most versatile and accomplished pop and rock professional string artists.
Learn more about The CoverGirls Violin Show:
---
Shining Star: A Tribute to Earth, Wind & Fire - 6:00pm - 7:30pm

Ten highly talented vocalists and musicians harmoniously join forces to present A TRIBUTE TO EARTH, WIND AND FIRE, a celebration of the four decade strong success, popularity and resilience of one of the most successful musical stories ever told......EARTH, WIND & FIRE
Learn more about Shining Star: A Tribute to Earth, Wind and Fire:
---
American English - 8:00pm - 10:00pm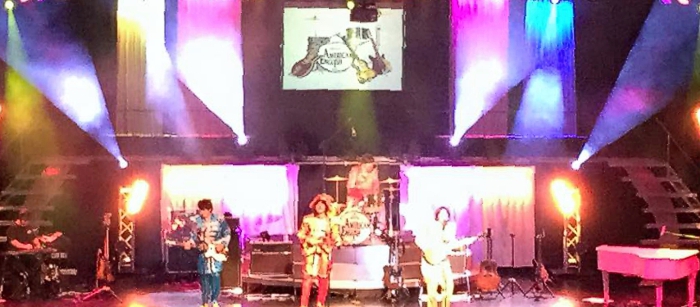 The show begins with the early years of Ed Sullivan and includes classic Beatles favorites such as She Loves You, Twist and Shout, I Want To Hold Your Hand, and many others. American English captures the very essence of John, Paul, George and Ringo!
Next, you'll take a trip with American English as they recreate the psychedelic era of The Beatles. Every musical and visual detail is magically shaped in a colorful journey back in time. You'll witness incredible versions of selections from Sgt. Pepper and Magical Mystery Tour. All the songs are performed completely live without any tapes or backing tracks.
And in the end, you'll be transformed to a spectacular musical excursion of the final years of The Beatles partnership. Relive the years of The White Album, Let It Be, and Abbey Road. Moving renditions of songs such as Hey Jude, Something, and Let It Be, are sure to complete the tribute to The Beatles!
Learn more about American English: