Saturday, August 17, 2019
Event & Stage Entertainment Schedule
Food and Beer - Noon - 11:00pm
Summer Cruze Classic Car Show
- 10am - 3:00pm
Jaycees Carnival - 1:00pm - 11:00pm
Jaycees Bingo - Noon - 11:00pm
NO COOLERS - NO OUTSIDE FOOD OR DRINK
No Pets Allowed except for Assistance Dogs to People with Disabilities.
Additional Parking at Brooks Middle School, 350 W. Blair Lane
Free Shuttle Bus - Look for the Bolingbrook Park District Bus
Saturday 5pm - 11:30pm
---
On The Peforming Arts Stage :
THE BAND SUNDANCE - 12:00pm - 1:30pm

The Band Sundance has a repertoire that will dazzle and impress every audience and to create the ultimate party.
The best music of the 60's, 70's, 80's, 90's and today.
Learn more about The Band Sundance:
---
3 If By Air - 2:00pm - 3:30pm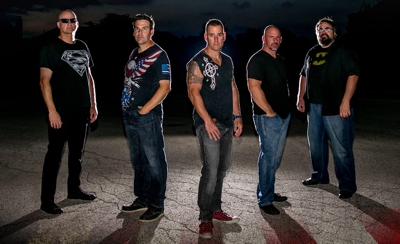 3 If By Air has grown from playing work parties to clubs in the Northwest and Western suburbs of Chicago. Their guitar driven rock and alternative from the 60's to the present, from the Beatles to Van Halen to the Red Hot Chili Peppers to Weezer keeps the party going. They include dance rock, classic rock, alternative, pop, grunge, funk rock, and metal.
Learn more about 3 If By Air:
---
NEVERLY BROTHERS - 4:00pm - 6:00pm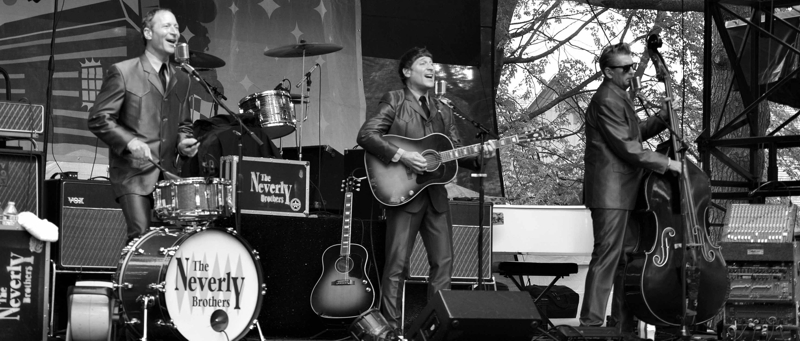 The Neverly Brothers concerts are a tribute to one of the most exciting chapters in music history: the birth, near death and resurrection of rock n' roll. Their one-of-a-kind high energy stage performances take you on a musical guided tour of rock history - from 1955 to 1965.
The first half of their concert pays tribute to the music created by the 1950s American Rock n' Roll pioneers - which by 1960 had become a distant memory but became the inspiration for the next wave of young rock bands from Britain. The second half then pays tribute to the 1964 British Invasion bands that re-recorded the forgotten 1950s American rock music – along with lesser known early 1960s rhythm & blues songs, recorded their own original songs and pulled Rock n' Roll from the edge of extinction by re-inventing and re-energizing it for a new generation.
You'll learn rock history and be thoroughly entertained with their chronological song sequence, stories behind the music and vintage wardrobe changes. Their repertoire consists of show-stopping renditions of early hits by Jerry Lee Lewis (Great balls of fire), Chuck Berry (Johnny B. Goode), Eddie Cochran (Summertime blues), Buddy Holly (That'll be the day), The Beatles (Twist & shout), The Rolling Stones (Satisfaction), The Kinks (You really got me), The Dave Clark Five (Glad all over) and more!
It's not "moldy oldies"- it's "old-school cool!" So hop aboard our virtual tour bus and fasten your seatbelts for an exciting MAGICAL HISTORY TOUR!
Learn more about The Neverly Brothers:
---
HEART TO HEARTBREAKER - 6:30pm - 8:30pm

Legendary women. Legendary music.

Primarily featuring the music of Heart & Pat Benatar, Heart to HeartBreaker captures the sights and sounds of women that changed the Rock & Roll status quo!

No tribute would be complete without characters that embrace the legends they emulate:

- Diva Montell - With soaring vocals and passionate lyrics, she is the essence of Ann Wilson.
- Karen Hart - Whether madly strumming her acoustic guitar, or providing beautiful harmonies, this ringer for Nancy Wilson knows how to 'Kick It Out'.
- Jeri Maria - Just like her sister, Diva, you cannot believe such a big voice comes in such a small package...but Pat Benatar attitude to boot!
- Adam Wald - Taking great care to deliver the lead guitar sounds you are used to hearing, Neil Giraldo would be proud.
Learn more about Heart To Heartbreaker:

---
THE CHICAGO EXPERIENCE - 9:00pm - 11:00pm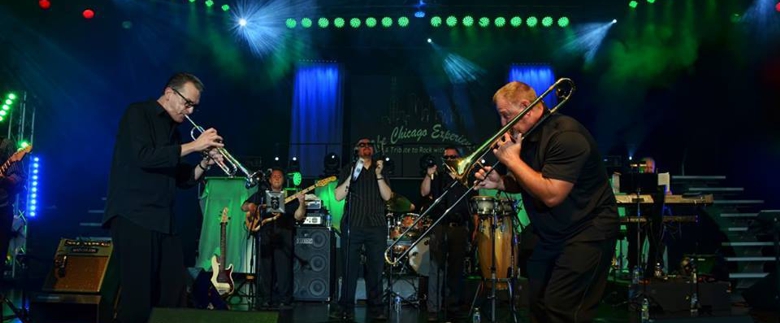 The Chicago Experience is just as it sounds - a group of musicians who call Chicago home, and who share a love for the music of one of the greatest rock n' roll bands of all time… Chicago.
Together, the band recreates the sound and feel of Chicago's music, who's hit songs have touched generations of fans spanning several decades. The Chicago Experience invites you to relive memories of the music that captured everyone's hearts - from the early hits off Chicago Transit Authority's 1968 self-titled album, such as "Beginnings" and "Does Anybody Really Know What Time It Is?", through the 1980's, with Chicago's hits "Hard To Say I'm Sorry" and "You're The Inspiration", you will share in the joy these songs bring.
Learn more about The Chicago Experience: